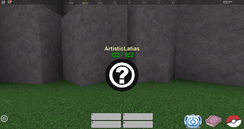 What is Decamark?
Decamark is a special Pokemon unlocked by people who lost data on 12/25/15, or people who lost their data in general. (PFE) In the actual games, Decamark is also identified as "ten question marks," and was made to prevent game crashes.
Decamarks Appearance
Decamark has a simple design, as it is a black circle with a white circle within it surrounding a question mark.
Moves
Struggle